Welcome to Exhibition Society, Hyderabad, Telangana, INDIA
Exhibition Society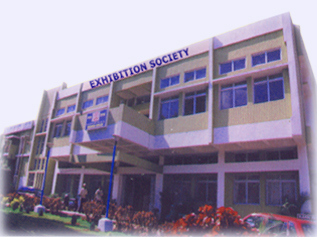 Late Sri Shankerji
The spirit behind the "EXHIBITION SOCIETY
"He is remembered as the driving force that propelled the Exhibition Society over three decades from a fledgling organization to a mature social service institution."

The Exhibition Society is a voluntary organization that was established in 1938 to conduct and manage every year the All India Industrial Exhibition, that is held from 1st January to 15th February. The74th All India Industrial Exhibition will be conducted in 2014.

The first exhibition was organized in 1938, by Osmania Graduates Association (OGA), Hyderabad. Soon after, the Economic Committee was formed and registered as a society with the purpose of focusing on economic development related initiatives of the OGA. After four consecutive runs of this annual event, the Exhibition Society was formed so that the exhibition could be organized as a permanent annual feature. The primary objective of Exhibition Society has been the promotion of industrial and economic growth, initially in Hyderabad Deccan ( a principality in colonial India) and in the state of Andhra Pradesh in post colonial India.

The Exhibition Society has been promoting entrepreneurial and industrial pursuits in the Small and Medium enterprises sector. It conducts industrial exhibitions and utilizes the revenue (stall fees and gate money) to sponsor educational and charitable institutions. This is perhaps the only instance in the world where the alumni of a university have been responsible for establishing over 20 educational institutions for the underprivileged and needy and support them financially by conducting an industrial exhibition every year.

The Members of the Society are from various walks of life but are united by their common resolve to work on a voluntary basis for the underprivileged, particularly in the areas of vocational training and higher education for women.

The Exhibition Society has the unique distinction of starting the first polytechnic for girls in the country. The main aim of the society in starting this Engineering College at Suryapet is to bring technical education to the doorstep of rural area. This prestigious institution is being run under the supervision of Governing body constituted with following eminent personalities and as per the norms of Government of Telangaana.

In 1956, the Exhibition Society was registered under the Companies Act, as a non-profit distributing organisation. This necessity arose mainly due to its having attained an All India stature and also due to its wider scope. Hence the Exhibition Society initiated yet another activity of financing and started setting up educational institutions, particularly for girls, as this was the most neglected sector in the state.
Institutions Financed By Exhibition Society
1. Kamala Nehru Polytechnic for Women, Exhibition Grounds, Hyderabad.
2. Sarojini Naidu Vanita Maha Vidyalaya, Exhibition Grounds, Hyderabad.
3. Sri Venkateswara Engineering College, Suryapet.
4. Sardar Patel College, Secunderabad.
5. Lal Bahadur College, Warangal.
6. Sri Laxmi Narasimha Swamy College, Bhongir.
7. Sarojini Naidu Vanita Maha Vidyalaya College of B.Pharmacy,Exhibition Grounds,Hyderabad .
8. Sri Venkateswara College, Suryapet.
9. Kasturba Gandhi Degree College for Women, Secunderabad.
10. Kasturba Gandhi Junior College for Women, Secunderabad .
11. Sri Ramalingeswara Degree College, Kulekcharla, Ranga Reddy District.
12. Central Institute of Commerce, Secunderabad.
13. Rajiv Gandhi Industrial Central, Nirmal, Adilabad District.
14. Shankarji Memorial Girls High School, Exhibition Grounds, Hyderabad.
15. LN Gupta Memorial Dispensary, Exhibition, Hyderabad.
16. Exhibition Society Osmania Graduates Association College of Education, Parigi.
17. Lal Bahadur College of Education, Warangal.
18. Sri Bramarambhika Mallikarjuna Swamy College of Education, Kalvakurthy.
19. JV Nursing Rao Vidyaniketan School, Nirmal (* year wise).
20. Osmania Graduates Association
21. Economic Committee